Child and young adult services at People Inc. include a wide variety of programs that match the needs and wants of a child or young adult and their family. The programs range from early intervention to job-readiness education for people under the age of 26.
Care Management for Children
Erie, Cattaraugus (Northern), Chautauqua (Northern), Monroe, Niagara, Ontario, Orleans and Wayne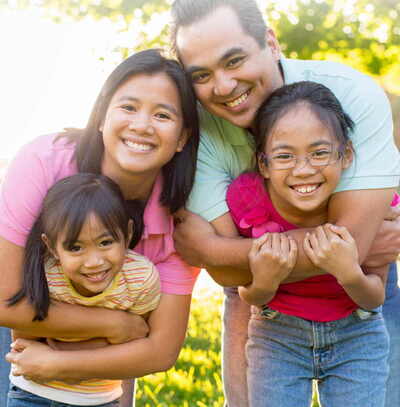 At People Inc., we understand that caring for a child who is on Medicaid and has a chronic health condition can be challenging and complex. To help families in our community better manage their child's health services, People Inc. now offers care management to families enrolled with our partner Health Home – Children's Health Home of Upstate New York (CHHUNY).
A Children's Health Home is not a physical building or home, but rather a virtual network of support that provides a care manager who is a compassionate key point of contact for the coordination of services.
Families enrolled in a Health Home can expect to receive comprehensive care management where all of a child's providers communicate with one another to meet the needs of the child and their family. Your care manager will assist you in accessing necessary services for your child to stay healthy, out of the ER and out of the hospital.
For more information on People Inc. care management for children and to learn about eligibility, call for Western New York or for the Greater Rochester region.
Ages: 0 to 21
Community Behavioral Health
Monroe
People Inc. recognizes that children and adults with developmental disabilities want to keep strong connections with their families and their surrounding communities. When a family member has a developmental disability, sometimes the person will need help to learn and grow. Some may need education, counseling, behavioral assessment and support, or behavioral crisis intervention. The People Inc. Community Behavioral Health Department has a group of specialized services designed to help families and people with disabilities live and function in healthy ways.
Must be eligible to receive OPWDD Family Support Services.
Early Intervention
Erie, Genesee, Monroe, Ontario, Orleans and Wayne
Early Intervention provides services for children up to the age of three with diagnosed or suspected developmental delays. The Program provides services such as occupational and physical therapies, speech, Language Therapy, Service Coordination and a Special Education Teacher that encourages your child's growth and development. The program also helps you better understand your child's individual needs and how you can enhance his or her development.
Erie County
Services are provided through the Erie County Department of Children's Services. Diagnostic evaluations are conducted to determine a child's eligibility for services. Services may be provided at your home or a community-based setting. The child must meet NYS Early Intervention Program Guidelines.
Monroe County and Surrounding Region
Only Early Intervention Service Coordination is available where knowledgeable Service coordinators assist families to determine and access the services that will help their child develop. They also provide crisis intervention and oversee the coordination between the family and professional service providers.
Age: For children up to three years of age
Fees: No charge to family
Other Information: Checklist for Growing Children
The Incredible Years Program
Erie
Designed to teach parents how to foster positive behaviors in their children and develop effective techniques for dealing with behavior challenges.
Ages: 3 to 12
PROMOTE Youth
Western New York
Provide Real Opportunities to Maximize Options for Transition and Employment Youth (or PROMOTE Youth) will provide Employment Transition Services (ETS) to students with disabilities in secondary, post-secondary, non-traditional or alternative education programs (between the ages of 14 and 21) who need such services and are potentially, BUT NOT YET, eligible for Vocational Rehabilitation services.

If you already have an existing relationship with one of the agencies listed here, please reach out to them for information. If not, call 716.817.5750 for further details on PROMOTE Youth.
Residential Opportunities
Residential Services provide people with intellectual and developmental disabilities a variety of supports using a Person-Centered and Trauma-Informed Care approach. There are numerous homes throughout Erie, Chautauqua, Niagara and Monroe Counties. Each has qualified staff available 24 hours a day. There are a variety of unique homes for people looking for particular services, including homes for children, specialized homes for people with complex medical needs, several apartment options and so much more. All residential services are certified through the New York State Office for People with Developmental Disabilities.
Additional residential programs include family care in which families open their home to individuals with developmental disabilities; and supportive apartments designed for people who are more independent yet require some guidance on a regular basis. In addition to more traditional group homes and supportive apartments, innovative "person-centered" housing is being developed. Persons with a developmental disability are eligible.
Hours: 24-hour supervision or dependent on individual needs
Respite Opportunities
Respite is temporary care away from home. For many families, respite is crucial to caring for a loved one with a developmental disability. People Inc. offers a variety of respite services to suit personal needs.
SaVE Transition Program (School to Work)
Erie and Niagara
Community-based
The goal of SaVE Transition Services is to significantly increase the community-based experiences and job readiness skills of special education students. Transition Services from school to adult life are provided to various Western New York School Districts and People Inc. continues to develop new relationships with other districts.
Self-Directed Services
Allegany, Cattaraugus, Chautauqua, Chemung, Erie, Genesee, Livingston, Monroe, Niagara, Ontario, Orleans, Schuyler, Seneca, Steuben, Wayne, Wyoming, and Yates
Provides the opportunity to choose which supports and services work best for people with a developmental disability at any age, how and when the they are provided and who will provide the support. Through Self-Directed Services, the person (or a designee) acts as the manager of their services. The person has a team, consisting of their Fiscal Intermediary, Support Broker, Care Manager, and whomever else they would like to include.
Wrap Around Services
Provides in-home tutoring, mentoring, counseling and behavioral services, with the goal of allowing children to remain with their families, through a combination of education, training and therapy.
Ages: 5-18