On a daily basis, gifts from people and businesses strengthen our People Inc. mission to help support our programs and services.
Gifts may be made:
Online:
Click here to make a secure online gift using a credit card, Venmo or PayPal.

Mail or by phone:

Donors can mail a check or gift to:

People Inc. Foundation, 1219 N. Forest Road, Williamsville, NY 14221

Reach us by phone at 716.817.7269.


Remember to check to see if your or your spouse's employer will match your charitable gift.
Philanthropic giving to the People Inc. Foundation provides People Inc. with the financial strength and flexibility necessary to drive our strategic plans forward, respond to the agency's most pressing needs, and ensure sustained excellence in our programs, facilities and services.
We are proud to introduce our Donor Societies as a way to recognize the generosity of our benefactors.
Employee Supporting Member
People Inc. Foundation Employee Supporting Members are valued supporters who make a recurring pre-tax gift through their payroll designation. Log into PeopleConnect to learn more and download the pledge form, or contact 716.817.7269.

Loyalty Society
Loyalty Society donors are a critical base of support to People Inc. and make a gift of at least $1,000 annually to the People Inc. Foundation.

Founder's 1970 Society
Donors who make a multi-year commitment of $1,970 each year for at least five years help make a demonstrable difference in moving the agency forward.

President's Circle
Leaders who step forward to make People Inc. a philanthropic priority with an annual contribution of $25,000 or more are recognized in our President's Circle.
Ready to make your gift? Click here.

For more information, please contact 716.817.7269.
Did you know that many employers sponsor matching gift programs and will match any charitable contributions made by their employees? To find out if a company has a matching gift policy, enter an employer name below.
If your or your spouse's company participate in a matching gift program, please send the completed and signed matching gift form(s) to:
People Inc. Foundation, 1219 North Forest Road, Williamsville, NY 14221.
What is a Tribute Gift, why make one?
A Tribute Gift is a donation made in memory or in honor of a special person in your life. It helps support the People Inc. Foundation.
In Memory of - A gift, in memory of someone, is a thoughtful way to memorialize the life of a loved one, while continuing to support a mission you or they cared deeply about.
In Honor of - Celebrations, such as birthdays, anniversaries, promotions, awards, weddings or any occasion that brings joy, is a time to give in honor of someone special. You spread the love while supporting the mission of People Inc. and the community it serves.
Here's just one example of how Tribute Gifts make a difference:
After the passing of Linda Baruch and Warren Weiss, the People Inc. Foundation received 65 Tribute Gifts honoring the lives and memories of these two very special people. The tribute gifts were designated to benefit the individuals served by People Inc. and the staff at the Newton house. As a result of the tribute gifts, the Newton house will continue to enjoy their annual picnic and play games previously hosted by Linda. The picnic was a favorite activity for her brother, Warren. The tribute gifts will also be used to purchase outdoor furniture for residents to enjoy during the warmer months. Each gift is a testament in recognizing their loving relationship - and that their influence on those they left behind - will not soon be forgotten.
How can I make a Tribute Gift to the People Inc. Foundation?
To make a Tribute Gift online, visit our donate page.
To create a Facebook fundraiser online, log on to your Facebook page and go to facebook.com/fund/peopleinc. Sharing your Tribute announcement on social media can inspire others to make their own tribute gift to People Inc.
Tribute Gifts can be made at any time in any envelope, but if you'd like, you may request a FREE set of five Tribute envelopes or arrange for a larger supply of free special Tribute envelopes for a memorial service or special occasion by contacting us at tribute@people-inc.org or call 716.817.7269.
Make a Tribute Gift Today
Stocks & Securities
Gifts of stocks or securities are welcome and we are happy to walk you through the process. You may contact the People Inc. Foundation Office at 716.817.7269 or foundation@people-inc.org.
Please notify us of all pending transfers of stock and include the following:
Donor Name
Name of Stock and Symbol
# of shares and the designation information, if available.
Insurance
Please consider naming the People Inc. Foundation as the as the beneficiary of all or part of the proceeds of the death benefit of an existing policy. To do so, contact your insurance carrier and complete a change of beneficiary form naming "The directors of the People Inc. Foundation."

​​​​​​​To learn more, or to speak with someone directly, contact the People Inc. Foundation Office at 716.817.7269 or foundation@people-inc.org.
To make a gift to the People Inc. Foundation via Electronic Fund Transfer (EFT), from your IRA, or from a donor advised fund, please contact us at foundation@people-inc.org or call 716.817.7269 and use the following tax information:

People Inc. Foundation Tax ID: 16-1450321
Mailing Address: People Inc. Foundation, 1219 North Forest Road, Williamsville, NY 14221
Phone: 716.817.7269


An IRA charitable rollover, also known as a qualified charitable distribution (QCD), enables donors to give any amount (up to a maximum of $100,000) per year from their IRA directly to a qualified charity such as the People Inc. Foundation without having to pay income taxes on the money.

Why Consider IRA Charitable Distribution?

If you are 70 ½ or older, your gift will be put to use today, allowing you to see the difference your donation is making.
For those who are 73 years of age, you can use your gift to satisfy all or part of your required minimum distribution (RMD).
You pay no income taxes on the gift. The transfer generates neither taxable income nor a tax deduction, so you benefit even if you do not itemize your deductions.
Since the gift doesn't count as income, it can reduce your annual income level. This may help lower your Medicare premiums and decrease the amount of Social Security that is subject to tax.

Make a Gift That Pays You Back For Life
Right Now You Can Help Secure Your Future and the Future of People Inc. with a Charitable Gift Annuity
Today, it's not uncommon for folks to look for ways in which to create a guaranteed income for life and there are several ways in which you can do this. BUT … what if you wanted to find a way to support the future of People Inc. as well?
Could you do both?
Yes! A gift annuity is an extraordinary way to make a charitable gift, increase your guaranteed income and cut your tax bill … all in one simple transaction.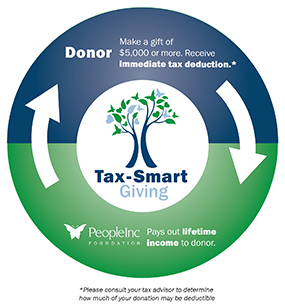 5 Ways You Win:
Receive an immediate charitable tax deduction and potential savings in capital gains and estate tax
Collect fixed income for your lifetime (and your spouse/loved one if joint life option chosen)
Choose when your income begins – at age 60 or later. The older you are when your income payments begin, the higher your rate.
Fund your gift with as little as $5,000 in cash or securities
Support the long term life-changing mission of People Inc.
Get a FREE, no-obligation gift illustration today to review your personalized benefits.
Rates guaranteed up to 9.25%*!
You qualify if you:
Can make a gift of $5,000 or more
Want fixed lifelong payments starting at age 65 or older
Please note:
Consult your tax advisor to determine how much of your donation may be deductible.
Also, rates are based on your current age at the time you make your gift.
Request your FREE personalized gift illustration today, with no obligation!
To request your FREE personalized gift annuity illustration, 716.817.7269.

"My dad's legacy gift, a life estate – I saw it as a token of our belief in the work and purpose of People Inc. I just felt that People Inc. had been such a big part of my sister's life, in terms of opportunities to develop and function in society. There was really never any question in my mind that it was the right thing to do." - Peter Gregory, Esq., Son of Charitable Legacy Society Member Donald Gregory
Making a Planned Gift is a beautiful way of expressing the gratitude we have towards People Inc. as well as an effective means of extending our generosity well into the future.
Your Planned Gift can create a lasting impact for People Inc. in significant ways:
Ensuring that children and adults with disabilities continue to receive the services and care they deserve
Providing advocacy and collaborative efforts
The continual "seeding" for new ideas and advancements to keep up with changing needs.
Accomplish your desired goals
To learn more about how you can make a lasting difference in the lives of people with disabilities, call 716.817.7269.


The WNY Coalition Pooled Trust is a collaboration between People Inc., Center for Elder Law & Justice and KeyBank. It has been in existence since 2004, serving hundreds of beneficiaries.
What is a Pooled Trust?
A pooled trust is a type of Supplemental Needs Trust (SNT) intended to help people with disabilities maintain Medicaid eligibility or Social Security by depositing their income or a lump sum into the trust.
The money deposited can be used to pay bills and expenses (with some limitations); all while not jeopardizing Medicaid or other Social Security Benefits.
Why consider the WNY Coalition Pooled Trust?
Simple and quick process; lower fees than most
Local and well-established, providing personalized attention
The WNY Coalition is Medicaid approved
The opportunity to leave a legacy and provide for the future security of People Inc. by designating the People Inc. Foundation as a beneficiary of the trust remainderment
Let us show you how OUR Pooled Trust can protect the financial future of your loved one with special needs and you. For more information, email info@wnypooledtrust.org, go to WNYPooledTrust.org or call 716.817.7454 or 1.866.362.5081.