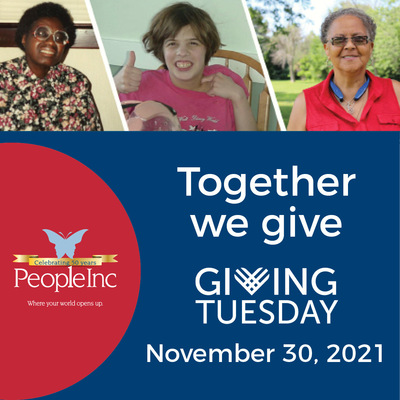 Thank you for Choosing to Help People Inc. on Giving Tuesday!
Give to Help People Thrive
Supportive. Innovative. Rewarding. These are just some ways to describe what People Inc. is all about. Our mission and services continue year-round to support thousands of people each day in our community. We are able to thrive because of people like you. Please help our mission continue by making a special donation today, as part of Giving Tuesday, a global generosity movement.
You can help ensure our comprehensive supports for people with intellectual and developmental disabilities, families and older adults; plus housing and health services for all continue to be met. Make a donation today to truly make a difference. No amount is too small!
Community members who donate will be entered to win People Inc. holiday cards – there will be three winners!
For more information, contact Jennifer Robinson at jrobinson@people-inc.org or 716.817.7269.
Thank you for your generosity!