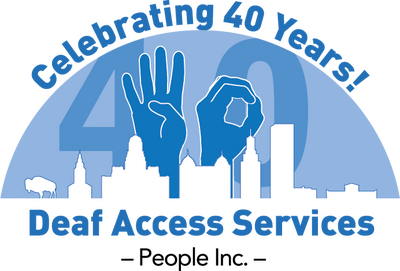 Celebrate 40 years of providing Deaf and hard of hearing services with Deaf Access Services, a program of People Inc. We are proud to bridge gaps in services and communication among the Deaf, hard of hearing and hearing communities throughout Western New York and the Greater Rochester region.
BE THE LIGHT on Thursday, April 20, 2023 from 5 to 9:30 p.m. at Shea's Buffalo Theatre, 650 Main Street, Buffalo, NY 14202. Download the invitation.
Keynote: Angela Maria Nardolillo, Founder of Off-The-Grid Missions, the only organization in the world dedicated to providing Deaf and hard of hearing people with access to life-saving resources in high-risk, remote and disaster-stricken regions around the world.

Event Features: Hors d'oeuvres, Dinner (choice of entree), Open bar (5 to 6 p.m.), Cash bar (after 6 p.m.), Desserts, Entertainment, Basket Raffle, Silent Auction, Award Recognition Ceremony, Fun Photo Booth

Tickets: $100 per person or Table for 8 people: $750
Purchase tickets by Saturday, April 8.

Sponsorships and in-kind donations welcome.
For more information about sponsorships or if you have event questions, contact David Wantuck at dwantuck@wnydas.org or call 716.833.1637 (phone) / 716.335.9192 (videophone).